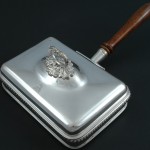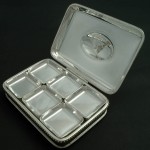 Pictured is a Georgian Sheffield silver fitted cheese dish by Matthew Boulton, c1810. It features a sunflower finial and gadroon border.  The dish is fitted with 6 removable shaped dishes and the wooden handle screws off to put hot water in the vessel below to keep the food warm.
These dishes were used to serve Welsh rabbit in the 18th century.  Welsh rabbit was a tavern dish usually made with crisp toasted buttered wheat breads that were so important to the English cuisine topped with melted cheddar-type cheeses.  The dish was served with wine, ale or beer, mustard, salt or pepper.
Today's Americanize version, a toasted cheese sandwich, is served with eggs and milk, not the wines and ales of England.